Pilonidal cyst - DRHC Dubai Hemorrhoids Clinic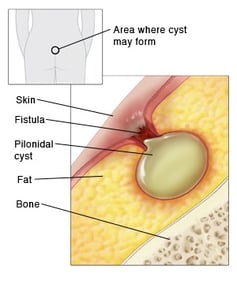 What is "Pilonidal Sinus or cyst"?
Pilonidal Sinus (or Pilonidal Cyst or Tailbone Cyst or Coccygeal Fistula), is a cyst (or multiple cysts) located in the upper cleft of the buttock, above the sacrum, containing hair that can form abscesses.
Is a fairly common disease, mainly affecting young males (15-30 years old) but can affect also female patients. Risk factors are: obesity (body mass index of 30 or more), an above-average amount of body hair, a family history of the condition, and a job that requires driving or sitting down for long periods.
There are two different theories regarding the etiology of the disease
The congenital theory states that pilonidal sinus is the result of a mistake in the migration of cells during embryological life: in fact, some cells belonging to the skin remain somehow trapped close to the bone, producing hair under the skin and subsequently getting cyclically inflamed and infected
The acquired theory says that the cyst is simply the result of skin hair and debris trapped in the pores of the skin.
Whatever pilonidal sinus etiology might be, is a very fastidious disease, causing pain and embarrassing purulent discharge.
The main symptoms are:
- pain in mid buttocks groove, especially when sitting
- swelling and redness around the area
- foul-smelling discharge, sometimes together with blood and hair
The patient can be present in an acute phase - with an abscess – or in a chronic condition.
When the abscess is present, antibiotic therapy is mandatory and surgical incision and drainage are needed in order to solve the local sepsis.
On the contrary, if the patient presents with a non-infected sinus, elective minimally invasive treatment is pursued and the patient can resume daily activities the same day after surgery.
It is very important to treat this disease in an early stage, before the sinus becomes larger and multiple, therefore requiring a more important surgical approach.
At Dr. Rami Hamed Center, we are proud to offer – first in the UAE – a new minimally invasive treatment for pilonidal sinus called EPSiT which is the best cyst treatment in Dubai Healthcare City. DRHC also offers treatment for multiple cysts on the buttocks.
If you are feeling difficulty or pain due to a cyst, consult our pilonidal cyst specialist doctor at Dr. Rami Hamed Center Dubai. Pilonidal Sinus Laser Treatment is the most effective and efficient way to treat this disease. We offer treatment for Pilonidal fissures and pilonidal cysts surgically and non-surgically.
*Click here for Proctology Surgery Packages*
The proctologist at the proctology clinic at DRHC provides the best diagnosis of hemorrhoids, hemorrhoid treatment, hemorrhoidectomy, hemorrhoid surgery, and THD hemorrhoids. To get in touch with a cyst removal clinic or to make an appointment with cyst treating surgeon of DRHC, call us at +97142798200