Dubai Hemorrhoids Clinic
Because traditional treatment of hemorrhoids or piles can be extremely painful and uncomfortable, many patients prefer to live with the problem rather than seeing their doctor. Choose the most modern hemorrhoid surgery with maximum long term results! Personalised care. Permanent results
Now - at Dr.Rami Hamed Center - instead of painful operations, we offer the newest minimally invasive hemorrhoids or piles treatment that allow patients to have:
- no visible scars
- very few to no pain
- quick return to daily activities
- very low recurrence rate
These are the 2 new techniques offered to the patients with hemorrhoidal prolapse by our expert proctologist:
1- Procedure for Prolapse and Hemorrhoids (PPH) or Longo stapled anopexy
This technique has been invented by the Italian surgeon Antonio Longo. This is the only surgical procedure able to remove, with a circular stapler, the prolapsed tissue causing the diseases (hemorrhoids should be better considered as hemorrhoidal prolapse). In fact, since hemorrhoids are accounting of 15-20% of the continence, they shouldn't be removed but only lifted up (thanks to the removal of the prolapsed tissue) and replaced in the correct anatomical position and de-vascularized. This technique is normally used for 3-4th degree hemorrhoids, so when is difficult or not possible to replace them in the anal canal.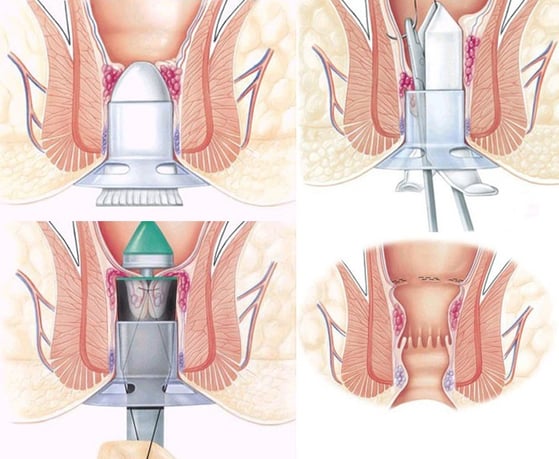 2- Stapled TransAnal Rectal Resection – STARR
This technique is very similar to the PPH, but more tissue is excised in order to get the expected results. Therefore is used in advanced cases or in women patients with important rectal prolapse and the presence of rectocele.
Click here to know more about our surgical packages
The proctologist at the proctology clinic at our center provides better diagnosis of hemorrhoids, hemorrhoid treatment, hemorrhoidectomy, hemorrhoid surgery and thd hemorrhoids.